They take a backseat to many gamefish, but I for one think chain pickerel deserve a little more credit than they get. They are willing biters, good fighters (we're talking pound for pound, not inch for inch), and present in a wide range of waters and habitats. They just have a way of showing up on your line no matter what your target species may be.
On many lakes, you can't pursue largemouth bass in shallow cover without combing though numbers of chain pickerel, but that's the obvious encounter. The species/habitat overlap is nearly 100% in that case. Although I don't turn up my nose at any pickerel, the pickerel that I appreciate the most are the deep water bonus picks – the ones that take lures meant for open water species. These are suspended fish living out over water that would cover a five story building.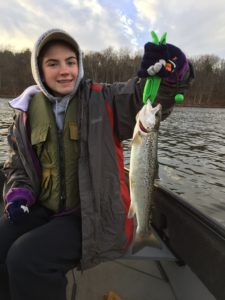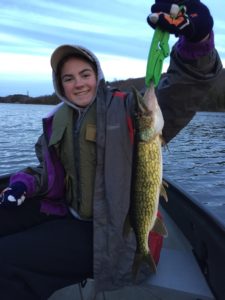 Reason #1, it's always an unexpected appearance. Who doesn't love a surprise, especially in a colorful. green & yellow wrapper?
Reason #2, the deep water pickerel are always sizable; generally ranging from 2 to 5 pounds or even more. Bigger is better.
Reason #3, the fight quality is underrated. There's no confusing a skinny 16 incher from the pads with a four pounder from the depths. Sure, the fight might include a period of that "wet sock" dead weight act, just like largemouth often do, but full grown specimens will show their athleticism with head shakes and short drag peeling bursts as well. The one in the pic at the top even gave a full bodied jump that would make a rainbow trout jealous.
Sharp teeth and copious amounts of slime will keep the chain pickerel way down on the general popularity scale. Most folks are just too squeamish. While everyone may not share my affinity for the species, I think we can all appreciate them as a predator and a gamefish.