I recently had the opportunity to fish some new waters. The top dog at Northkill Tackle was planning a camping and fishing trip in the middle of nowhere. He had room in his camper, and I had room in my schedule. It was perfect timing.
Maybe it's not fair to say the middle of nowhere, but you could see it from there. More important than the remoteness was the variety of water types in the area. I got to sample four different waters, and there are more. It was a fishing cornucopia.
Day one started early for me. I had a few hours to drive. Half of that was before the sun rose. Coffee, snacks, and the promise of fishing kept me alert behind the wheel.
I arrived at the campground and found the Northkill mobile headquarters without too much trouble. The camper was a cushier set up than I was expecting. Running water, electric, Seinfeld on the TV; I can see why there's a market for those things.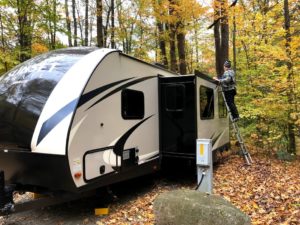 My past camping experience had mostly been the tent kind. I did have a childhood friend with access to pop-up campers, but that was a long time ago. Camping for me was generally some acceptable discomfort for convenience or cost cutting. Anyway, enough about the micro-hotel on wheels. This was a fishing trip.
After a quick breakfast we packed up for the first venue. It was a boulder strewn, freestone trout stream We were rigged up for tightline nymph fishing. My expectations were low. I wasn't prepped with glorious fish stories. The preface for this stream was a story of the sentimental significance. Yeah, I know what you're thinking. The foliage was beautiful too.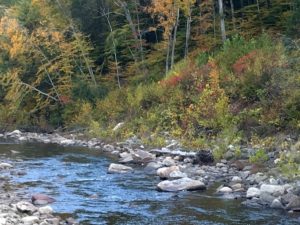 Well, the stream gods were listening. They gave us what we asked for. We bugged out at midday with no fish landed and maybe two strikes between us. It was fishing, not catching. Time to mix things up.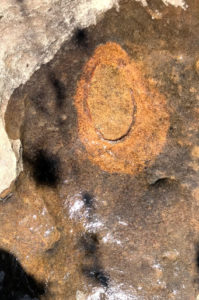 We needed a sure thing for the PM session. A short drive and a shorter walk brought us to a mountainside trickle inhabited by native brook trout. We leapfrogged our way up the creek with our lightest fly rods. The resident fish were plentiful and hungry. Most pools at least produced strikes. Many produced one or more landed fish. This was a great water for field testing the prototype Northkill Native net.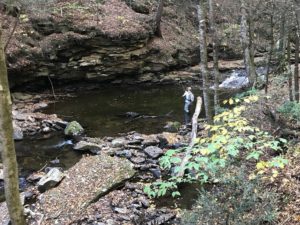 The Native is a net with a small hoop and a deliberately short handle. This reduces weight, and presents less length & surface area to catch on the bushes & boulders that line mountain streams. Aesthetically, it pairs nicely with the diminutive tackle that is so effective on native brook trout streams. It's the two weight of nets.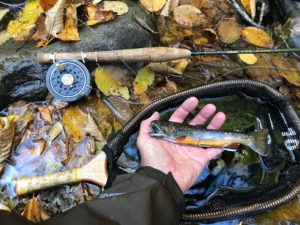 Back to the stream. The afternoon was as much about catching as it was about fishing. Our final tally could be measured in dozens. These weren't big fish. Some were no longer than the beech leaves that covered the ground. What they lacked in size, they made up for in color and cooperative spirit. We wrapped it up before the sun set, and headed back to the glampsite.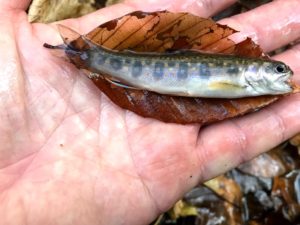 The next day started early. We wanted to squeeze in a trip to a local lake before the forecasted afternoon rains arrived. We loaded up a cartop boat and were on our way to what I thought was the final venue.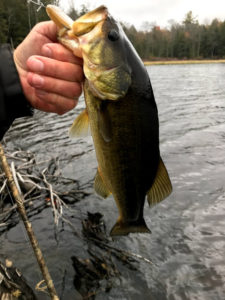 This was planned to be mainly a spinning trip. The pre-frontal winds made sure it stayed that way. We used a mix of plugs & plastics, and found success with both largemouth bass & chain pickerel. The rain was drawing near. We both had things to do, so we stuck a fork in it before noon. This warmwater fishery had been a perfect, complimentary juxtaposition to yesterday's trout fishing.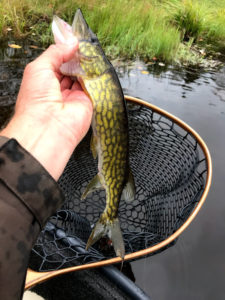 Before I left the glampground, it was suggested that I scout out Lake Such-n-such on the way home. Sure enough, 15 or 20 minutes down the road I see a sign for the lake. I better check it out.
It was a good looking body of water. It was a moderate sized lake. There were some visible weedbeds. The surrounding topography lead me to believe there were some steep shorelines too. Then it happened. I caught a glimpse of movement. It was time to stop looking and go fishing one more time.
After a little more observation I was fairly certain they were trout cruising a shallow flat. I still had a small minnow plug on my ultralight. I tried that first, then a few different soft plastic presentations, then a spoon. Nothing garnered more than a follow. At least the followers revealed they were indeed trout.
I ran back to the vehicle and grabbed my two weight, a rig I normally reserve for the smallest trout streams and panfish applications. With the rain almost upon me, I didn't want to waste time rigging a bigger rod.
Bucking a stiff wind, I was maybe casting 20 or 25 feet with the six foot something fiberglass rod. On about the third or fourth cast with a leech fly I had a take. As soon as the line came tight the trout went full berserker mode. On one of its jumps it actually hit dry land and bounced back into the water. Somehow the barbless fly stayed secure in the jaw. After a few more jumps, a couple short surging runs, I slipped my Native net under a healthy rainbow.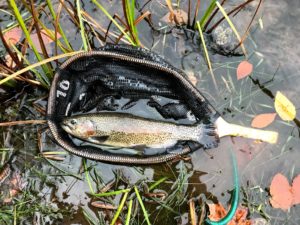 I'd like to say I released it and walked away a winner as the rain began to fall, but I can't. I did release it, but I also stuck around casting until the drizzle turned to a driving rain. I didn't get another bite. At least I caught a fish and maybe found a new fishing spot for another time.