I've been dumbfounded by the almost universal acceptance of wading shoes being stiff beyond stiffness. It must be desirable to some – maybe most. It's just not for me. I like a flexible, more athletic shoe for wading.
I remember as a kid looking forward to May or June when water temps would allow for wet wading in sneakers rather than my boot-foot rubber waders. It was like taking off a cast. Freedom of movement was restored! That's the way I have felt about every wading boot I've tried, until now.
In my search for a better mousetrap I stumbled upon the SoftScience Terrafin. It looked a bit like a hiking boot and a bit like an old school hightop sneaker. It boasted light-weight fast drying construction and a flexible sole. I took a chance and bought a pair online.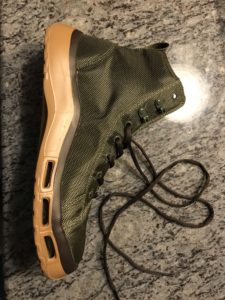 They only came in whole sizes, so I had to size up from my preferred 9.5 to a 10. That turned out to be a plus. I'll elaborate on that in a bit.
I put them into use right away. The first thing I noticed was the need to wear a sock with them. The inside stitching is a little "scratchy". Mine fit better with a sock anyway due to that extra half size.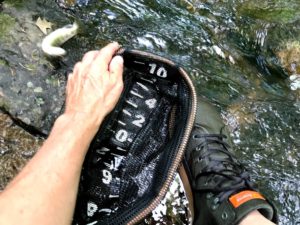 They are great for wading and light hiking. The sole is thick yet flexible, comfortable, and grippy on all kinds of surfaces. I wear them for fishing, day hikes, canoeing, and most any time I don't mind wearing a weird looking shoe.
In addition to that thick, soft sole, they have a substantial, removable innersole. I read an online review in which a buyer said something like, "they are like wearing pillows on my feet". I tend to agree. That double layer of cushion is, well, cushy.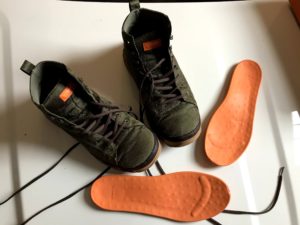 That thick, removable innersole got me thinking. I knew they would not be roomy enough for the neoprene bootie of my waders as is. A test fit confirmed that. The obvious audible – remove that thick innersole. Sure enough, without the innersole the size 10's were a snug, but doable fit over stockingfoot waders.
I ran with that through a season. Once I was confident in the shoe's performance, I doubled down and bought a second pair. This time I sized up one more to 11's. The 11's were a perfect fit with stockingfoot waders. Now I have one pair for wet wading and one for use with waders.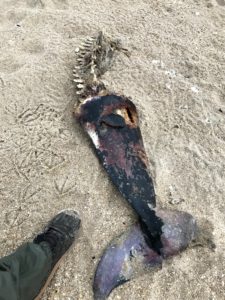 Here's the bad news. Buying that second pair was no easy feat. The SoftScience company appears to have gone out of business. With a little searching I found a vendor with size 11's in the sage color I wanted. The last time I looked there were still some Terrafins to be found out there on the web. It may take some searching, but if you're resourceful and lucky you still have a shot of finding your size.
Pros:
Comfortable fit.
Freedom of movement
Removable innersole
Fast drying
Grippy sole 
 
Cons:
Best worn with a sock
The innersole grabs your sock a little when donning
Whole sizes only
Out of production!