A trip to a small local river added a few species to "The 2018 Fly Fishing List".
The species in the pic above is one of my favorites. As a kid, I incorrectly referred to these as longear sunfish. Looking at the opercular flap, you can see why. It is, of course, the redbreast sunfish. This colorful, willing biter is quite common in this river and many others in the east.
This redbreast, and many of his neighbors, ate a fuzzy nymph with a brass bead head. The tail of this specimen is worth mentioning. I would assume that he wore that down digging a spawning bed. The wound looked fully healed and he seemed none the worse for wear.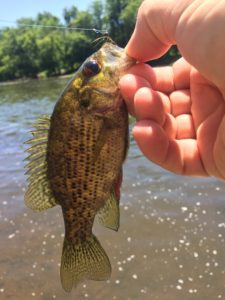 A couple small rock bass came next using the same generic bead head. There's not much to say about a rock bass. They have lots of bite, but not much fight –  especially at this size.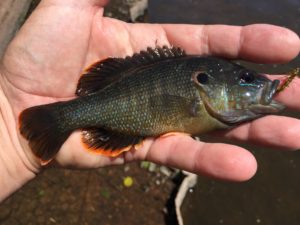 The green sunfish was the final species of the day. This little guy was the only one of his kind that I found that day. A switch to a glass bead head nymph lead to his capture.
"The 2018 Fly Fishing List" so far:
Brown Trout – Salmo trutta
Brook Trout – Salvelinus fontinalis
Rainbow Trout – Oncorhynchus mykiss
Landlocked Atlantic Salmon – Salmo salar
Creek Chub – Semotilus atromaculatus
Northern Pike – Esox lucius
Largemouth Bass – Micropterus salmoides
Chain Pickerel – Esox niger
Black Crappie – Poxomis nigromaculatis
Bluegill – Lepomis macrochirus
Bowfin – Amia calva
Pumpkinseed – Lepomis gibbosus
Common Shiner – Luxilus cornutus
Redbreast Sunfish – Lepomis auritus
Rock Bass – Ambloplites rupestris
Green Sunfish – Lepomis cyanellus