I am one of those people who is caught up in the Alaskan reality TV craze – among other reality themes. If someone came out with a show about gold alligators in Alaska, I'd never leave my livingroom. Anyway, I wondered what the deal is with those brown boots that everyone in Alaska appears to wear.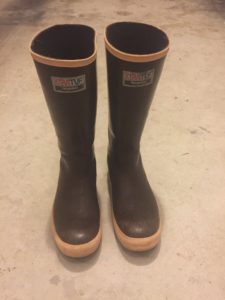 I finally had to google it. I typed "brown boots" into the search bar. Before I could type any more "Alaska" self-propagated. What do you know? They really are a part of Alaskan culture. It's not just a clever product placement scheme. They are called Xtratufs; made from neoprene rubber by Honeywell International, Inc. .
A little more googling and I found references to non-marking soles, good traction on wet surfaces, comfort, and durability. My interest increased. Now, I own a pair myself.
I have had mine for just over a year. I can honestly say I have no complaints. They are extremely comfortable. I don't wear them for any kind of extreme activities, or haven't yet. I wear them mostly for fishing from boats or brief shoreline excursions. Throw in the occasional snow shovelling or wet weather yard work job. It's been a light duty year, but they have held up fine so far, with vertually no signs of wear & tear.
Comfort is what has impressed me the most. I think a good portion of the comfort comes from the pliability of the boots overall and especially in the uppers. The foot of the boot flexes easily with my own foot in a nearly sneaker-like way. The uppers are so flexible, I don't even feel them on my calves. Picture rubber boots that are just stiff enough to stand up on their own. That's the Xtratufs.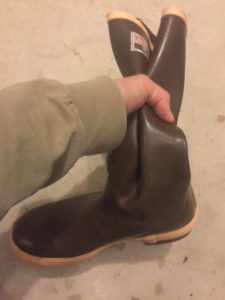 Although Xtratufs do come in an insulated model, mine are uninsulated. Their warmth is directly proportional to your socks – the colder the day; the heavier the sock. For winter fishing, I use thick 78% Merino wool socks marketed as a hiking, hunting, and work socks. These have worked well for me during the coldest part of the open water season. My feet stay comfortable down to about 25 F in a passive activity; even lower in an active pursuit. I was wearing them the other day while trolling at about 20 F. I had to periodically do toe calisthenics, flexing and stretching, to keep my feet comfortable. Apparently, 20 degrees was a little under the temperature limit on my feet.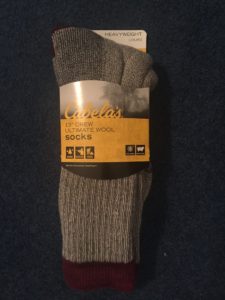 I've always thought rubber boots were about the goofiest looking footwear a man can wear, and that's coming from a guy who owns Crocs. The functionality of Xtratufs have broken that barrier for me. I wear my brown boots regularly, and I wear them proudly.